Pancakes are so versatile and easy to make. I'll show you how easy it is for you to make light, fluffy pancakes that are tasty and almost melt in your mouth.
These light and fluffy pancakes are great for kids of all ages as you can add any toppings you want or just eat them as cupcakes. They're not too sweet so you can enjoy the nostalgic flavor of the maple syrup on top.
You can use ingredients straight from the fridge, making this pancake batter recipe a great last-minute breakfast item.
I recommend using an electric mixer to save time when possible. Save time to share precious moments with your whole family at the breakfast table.
Light and fluffy pancakes recipe
Preparation time: less than 10 minutes.
Cooking time: approximately 5 to 10 minutes.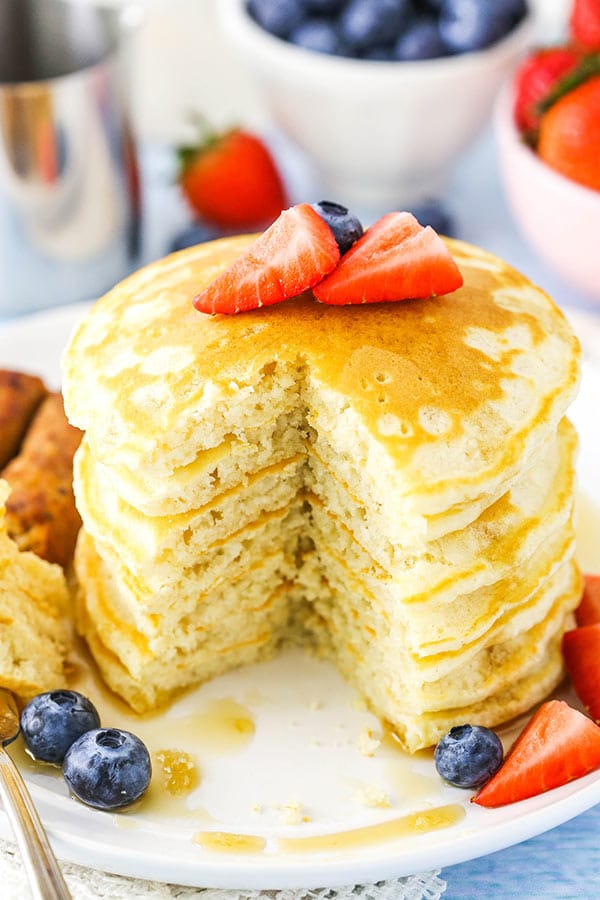 Makes about two dozen pancakes.
Ingredients you will need:
1/4 cup butter
1/4 cup sugar (or icing sugar)
1 egg
1 1/4 cups self-raising flour (sifted)
2/3 cup milk (light or low fat is fine, you can also use water or a combination of water and milk)
vanilla essence
Method:
Beat the butter and sugar until you get a cream or until the butter is lighter in color.
Add the egg to the mixture, then add flour around the mixture and pour in the milk and the vanilla essence.
Mix all the ingredients until well mixed and smooth. If for some reason your pancake batter mix is ​​a bit thick, stop mixing and quickly add a little more milk or water. (If you are hand-beating the dough, start from the center of the mixture and whisk in one direction only.)
The texture you are looking for is a thick but runny batter that you can easily pour into the pan.
Next, heat your pan until hot. If necessary, add a little oil to the pan. I use a French crepe skillet so I don't need to use any oil, but if necessary, try using cooking spray.
Reduce heat and pour pancake batter into pan to desired size.
Let the pancake rise and brown a bit before flipping.
When you flip the pancake to cook the other side, you should see that the pancake is rising faster.
Make sure the heat in the skillet is not too high. A good tip is to make sure you don't see heat smoke coming out of the pan.
A safeguard way to make sure your pancakes get light and fluffy is to cook over low heat, but I think keeping the pan on medium low is generally fine. Just lower the heat after a couple of batches to lower the temperature of the pan.
Here are some creative add-ons you can use with your fluffy pancakes:
blueberry pancakes
Add the blueberries to the batter at the last minute.
Chocolate pancakes
Add 1 1/2 teaspoons of cocoa to the flour before mixing.
Choc-Chip Pancakes
Cook your pancakes very thin on one side, sprinkle a few choc-chips on one pancake, flip another over the choc-chips (so that it is sandwiched) and continue cooking over low heat. Flip and cook the other side.
pancakes with almonds
Add flaked almonds to the mixture at the last minute.
No more sit-down breakfasts on Sundays alone, this pancake batter recipe is quick to make. Rejoice in the loving atmosphere of what it means to be a family.