The Porsche 911 Turbo coupe and 2021 cabriolet arrive to fill the gap on the 992 generation line between the Carrera S and the Turbo S. Prices start at $ 170,800 for the hardtop and $ 183,600 for the convertible (plus a charge of $ 1,350 destination for them). They are available to order now in the U.S., but U.S. deliveries don't start until early 2021.
The 2021 911 Turbo has a six-liter, 3.8-liter twin-turbo engine that generates 572 horsepower (427 kilowatts) and 553 pound-feet (750 Newton-meters) of torque. It can reach 60 miles per hour (96 km / h) in 2.7 seconds for the coupe and 2.8 seconds for the convertible. Both have a top speed of 198 mph (319 kph).
In comparison, the latest 911 Turbo S has 640 hp (477 kW) and 590 lb-ft (800 Nm) of torque. The hardtop model reaches 60 mph in 2.6 seconds or 2.7 seconds for the convertible. They have a top speed of 205 mph (330 kph). This variant sells for $ 203,500 for the coupe or $ 216,300 for the convertible.
In addition to the less powerful engine, the 911 Turbo has a transmission that is largely identical to the Turbo S. It uses an eight-speed dual-clutch gearbox that works through an all-wheel drive system. The rear axle steering helps sharpen the drive.
One difference between the two models is that the 911 Turbo comes with cast iron brake rotors. They measure 16.06 inches (408 millimeters) at the front and 14.96 inches (380 millimeters) at the rear. Standard Turbo S Porsche ceramic composite brakes are an option on this model.
Inside, the 911 Turbo comes standard with a 10.9-inch infotainment display and 14-position power sports seats.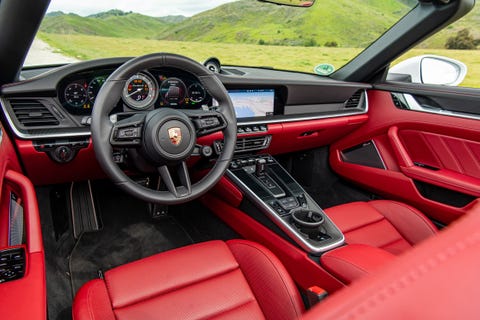 If you want to give your 911 Turbo some of the elements of the S, then the company has options available to make it possible. The hottest variant lightweight package cuts about 66 pounds (30 kilograms) through changes like removing the rear seats and removing some sound insulation. The Sport Package adds SportDesign body parts, different trims, and clear taillights.
Porsche Dynamic Chassis Control, a low suspension and sport exhaust are also available. Customers can upgrade safety aids with InnoDrive with Adaptive Cruise Control, Lane Keeping Assist, Surround Vision and Night Vision Assist.